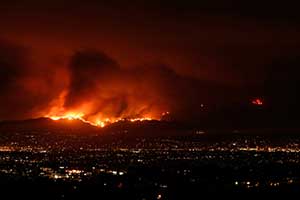 In response to the Northern California wildfires, Benchmark Environmental Engineering in San Jose is providing fire damage inspections for resolution of insurance claims. With the dangerous level of fire blazing in the Napa and Sonoma County regions, there has been an immense amount of property damage and loss. The Sonoma County blazes alone have blackened over 100,000 acres. At Benchmark Environmental Engineering, we not only test fire damaged buildings and properties for toxic levels of commonly harmful infrastructure materials like asbestos and lead, but we also sample any soot, ash, and tar to be tested for hazardous chemicals such as:
Lead
Asbestos
Mold & Fungus
Carbon Monoxide
Volatile Organic Compounds
Polycyclic Aromatic Hydrocarbons (PAHs)
Northern California Wildfire Damage
The wildfires raging in Northern California are wreaking havoc on the Sonoma and Napa Valley regions damaging thousands of homes and acres of property. Before returning to their homes, residents should have fire and smoke damage testing performed to ensure their health is not at risk. Smoke and ash from fires can release harmful microscopic debris and chemicals into the air causing risk to not only your health but your property and infrastructure too. Air, water, and soil samples after a wildfire has occurred within a close proximity to you should be tested for contaminants that are harmful to plants, animals, and people.
Fire Damaged Building Materials Pose A Big Threat
Fires and smoke particles can disturb the protective layers of building materials exposing hazardous chemicals and contaminants. Paint left undisturbed for years could potentially release lead particles into the air and asbestos was used in many different areas of the home including insulation and popcorn ceilings. Water used to extinguish the flames can also eventually lead to mold, fungus, and further structural damage.
Wildfire Damage & Smoke Residue Testing
If you've experienced property damage due to the Northern California wildfires, you should consider fire and smoke damage testing. Contact Benchmark Environmental Engineering in San Jose and we can help you determine whether or not the damage to sustained to your property could cause any potential health concerns. We test for asbestos, lead, mold and more. Contact us today for more information.