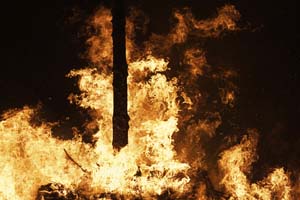 Benchmark Environmental Engineering is an environmental consulting firm that provides smoke and fire residue testing for San Jose area homeowners and commercial property owners and their insurance companies.
Interior smoke damage is an unfortunate effect that comes with house fires and wildfires. Sometimes the effects of smoke and fire residue are apparent, and in some cases they are not easily recognizable. The health hazards and property damage associated with smoke and fire residue make it necessary to perform testing.
Why Smoke & Fire Residue Testing is Critical
Smoke particles and fire damage residue are microscopic and can be inhaled, causing health problems ranging from eye and respiratory tract irritation to cancer and serious cardiac and respiratory problems. Some related symptoms include burning eyes, breathing issues, coughing, wheezing, respiratory discharge, chest pain, cardiac arrhythmias, headaches, dizziness, nausea, visual impairment and coma. Children and older adults with pre-existing lung and heart diseases are most susceptible to smoke-related illnesses. Determining the presence of smoke particles and residue in a building following a structure fire or wildfire is important in protecting the health and safety of its occupants.
In addition to health concerns, smoke and fire residue can damage property, causing smoke odors, discoloration of walls, floors, ceilings and personal belongings, and ghosting effects from the deposit of black carbon on building surfaces. Fire and smoke contamination testing must be performed in order for insurance companies to approve the cleaning and replacement of smoke damaged items and the repair or reconstruction of your home or commercial building.
Fire and Smoke Contaminant Testing Services Offered By Benchmark Environmental Engineering
We provide comprehensive fire and smoke investigation and testing services. Our smoke contamination testing process includes a thorough site inspection, followed by swab samplings of walls, hard furniture, floors, ceilings and other pertinent surfaces. We take microvac samples of dust from soft goods such as couches, draperies and clothing. We also employ advanced methods such as Electron Microscopy, Polarized Light Microscopy, and Transmission Electron Microscopy. Benchmark Environmental Engineering's highly trained team also performs air quality testing. We work with an accredited laboratory to analyze all of the samples for combustion by-products, black carbon analysis and the presence of health hazards.
Benchmark Environmental Engineering's accredited environmental consultants prepare a report detailing the findings of our investigation. We provide recommendations for abatement procedures, including a work plan and a detailed set of cleanup protocols. We work with your insurance company to approve your claim, and while an IICRC-certified restoration contractor performs the cleanup, we can provide project oversight, giving you peace of mind that your home or commercial building is being handled appropriately. Upon completion of your fire and smoke restoration project, we will retest the affected areas and provide a clearance, allowing you to return to your home or business knowing that you and your family, employees or tenants are safe.
Why Choose Benchmark Environmental Engineering for Smoke and Fire Residue Testing?
It is important to have a respected industry leader on your side as you navigate through the aftermath of a fire. Benchmark Environmental Engineering will provide you with a turnkey solution during this difficult time, conducting all necessary testing, working with your insurance company on your behalf, and ensuring that your home or commercial building is cleaned and restored properly. We will help to facilitate timely response through each phase of the project minimizing loss-of-use. With over twenty years of experience in environmental consulting, we are accredited through many government entities, industry affiliations, and environmental licensing agencies, and have established important working relationships with insurance companies. Thousands of San Jose area homeowners and property owners have turned to Benchmark Environmental Consulting in their time of need.
If you have suffered a fire loss in Northern or Southern California, let the professionals at Benchmark Environmental assist you. We will be your advocate and guide as you go through the process of restoring your life and property.