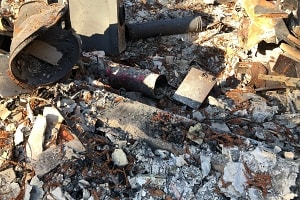 Good news! Benchmark Environmental Engineering is listed as an approved CZU Lightning Fire debris testing company by the County of Santa Cruz Health Services Agency. If you're ready to bounce back, clean up, and rebuild your Santa Cruz or San Mateo area property, we are here to help with quick, efficient, and professional pre- and post-debris cleanup testing.
Rebuilding After The CZU Lighting Complex Fires
The August and September CZU Lighting Complex fires, including the Waddell and Warrenella wildfires, burned over 86,000 acres across California's West Coast. Over 925 single-family homes were left damaged or destroyed, leaving a lot of us displaced and devastated.
It may be time to clean up and build our communities again, but our environmental health departments warn us to proceed with caution.
Required Tests For Maximum Safety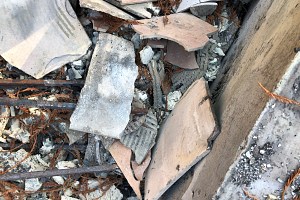 You may have heard of, or started the application process for, Phase I or Phase II debris removal and faced some complicated clearance issues. According to the County of Santa Cruz Health Services Agency:
"To ensure safety of workers, the public, and the environment, property owners must follow certain protocols after a wildfire disaster when removing structural ash and debris."
This is because, along with the soot and rubble, fires can leave behind dangerous household hazardous wastes and toxic residues. Cleanup efforts can expose workers and spread these substances, causing both immediate and long term health problems.
Household Chemicals
Asbestos Contamination
Polychlorinated Biphenyls (PCBs)
Heavy Metal Residues – including antimony, arsenic, barium, beryllium, cadmium, chromium, cobalt, copper, lead, mercury, molybdenum, nickel, selenium, silver, thallium, vanadium, and zinc.
County Approved Pre & Post Fire Debris Removal Inspections
As part of ongoing wildfire debris cleanup efforts, you may need soil testing to ensure that your property is safe to clean up and, following cleanup efforts, that it is safe to start reconstruction. We are highly-experienced in asbestos testing, hazardous waste testing, and soil testing.
We have also been working closely with County debris coordinators. So, you can rely on us to clearly understand the testing requirements for any necessary Environmental Health Clearances you need.
Schedule Your Environmental Health Clearance Testing
Move forward confidently and safely in accordance with current cleanup safety ordinances when you choose Benchmark Environmental Engineering for professional, county-approved CZU Lightning Fire debris testing. Contact us today to make an appointment for our soil testing and property assessment services.