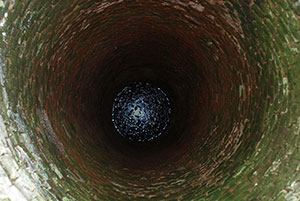 Protect your health with professional well water testing by Benchmark Environmental Engineering, serving you throughout the San Jose, CA area. We specialize in water quality testing for both homes and businesses. Worried about what's in your water? We're here to help.
Threats To Your Private Water Supply
A census survey estimate shows that only about 15 percent of U.S. citizens utilize a private drinking water source that meets Environmental Protection Agency safety requirements. If you are a rural resident surrounded by farms and factories, you can be at greater risk of nitrates, aluminum, and other dangerous pathogens leaching into your private drinking water, especially after a heavy rainstorm.
Signs & Symptoms Of Well Water Contamination
If you own a private well used for drinking and everyday household water, it's important to recognize the signs and symptoms of possible contamination. Even if you don't live by a possible pollution source, over time pipes can corrode or deteriorate affecting the ability of your systems ability to provide quality, clean water. Some signs that there may be a problem include:
Recurrent gastrointestinal upset of household members
Recent septic system overflow or repairs
Flood or heavy rains
Drought
Common Well Water Contaminants
Color, taste, or smell can provide only a small indication that your water may have been contaminated by runoff or groundwater containing harmful microbes and viruses. Residents may become immune to the small trace amounts of salts, minerals, or nitrates contaminating the water supply, but non-locals may develop gastrointestinal problems. The most common well water contaminants include:
High Salt & Mineral Content
Heavy Metals
Fertilizer & Pesticide Chemicals
Parasites & Bacteria
Why Salts And Minerals?
Lead, microbes like bacteria and harmful chemical might already sound like something you want to keep out of your water supply, but you might be wondering about salts and minerals. The constant presence of dissolved salts and mineral buildup, aka hard water, can cause dry, itchy skin and has been known to damage pipes, clothing, and shorten appliance lifespans.
When heated or boiled, the minerals in your water may also increase in toxic potency, which is why it's important to know exactly what and how much of each mineral is occurring in your water.
20 Years Of Trusted Environmental Engineering
It's important to plan ahead and test your well water quality at least once a year. When it comes to water quality, sometimes what you don't know can hurt you.  At Benchmark Environmental Engineering, we invite you to call us today and find out what's in your water. We look forward to serving you throughout the San Jose, California Area.