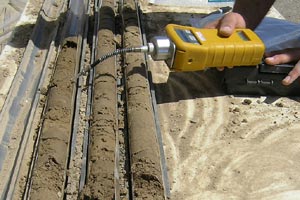 Benchmark Environmental Engineering provides soil and ground water inspection and testing services to commercial property owners, property management companies, government agencies, lending institutions, and real estate professionals. Based in San Jose and San Diego, our teams of industrial hygienists and geologists specialize in property assessments involving underground and surface contaminations in the State of California. Our sub surface investigation services include sample collection and analysis, as well as remediation plan design and oversight.
Soil Testing & Inspection
Benchmark Environmental Engineering's sub surface investigations include a site visit to determine the best locations for soil testing and inspection. Our surveyors chose areas of the property to drill for soil testing, and we bore to a depth of approximately 16 feet below grade surface at each location. Our Certified Environmental Inspectors collect soil samples for field screening and lab analysis. We test for volatile organic compounds (VOCs), benzene, toluene, ethylbenzene, and xylenes (BTEX), methyl tertiary butyl ether (MTBE), semi-volatile organic compounds (SVOCs), polynuclear aromatics (PNAs), total metals and PH, and we work with third-party accredited laboratories to analyze the samples.
Ground Water Testing & Inspection
Benchmark Environmental Engineering will also select locations on your property to drill groundwater monitoring wells. We use state-of-the art boring equipment and excavate to depths of approximately 20 feet. We collect multiple groundwater samples and test them for the presence of VOCs and SVOCs. As part of our assessments, we also collect samples from surface water, dry wells, floor drains and catch basins and test for the presence of these toxic compounds.
Contamination Investigation
When underground gas storage tanks or drums are discovered buried on the property, it is important to test for contaminants, like benzene. Performing soil tests and groundwater tests will show whether or not hazardous materials have leaked out of the containers and penetrated the surrounding soil or water sources. Benchmark Environmental Engineering performs our sub surface contamination investigations according to American Society for Test and Materials (ASTM) standards.
Soil & Ground Water Contamination Remediation Plans
Upon receiving positive tests for hazardous materials contamination, Benchmark Environmental will design a comprehensive remediation protocol that adheres to all state and federal requirements. We will provide a comprehensive plan structured to remove all contaminants in a timely manner. With over 20 years of experience in soil and ground water analysis in San Jose and San Diego, we provide our clients with expert remediation plans that follow best practices and minimize their costs. We also provide project monitoring services, and we will work with your remediation contractor to ensure that all hazardous materials are removed. Upon project completion, we will resample the affected areas and will issue site clearances.
Why Choose Us for Subsurface Investigations?
Benchmark Environmental Engineering has over two decades of experience performing soil and ground water inspection and testing in San Jose and San Diego. We offer a comprehensive scope of services associated with sub surface contaminants from the initial investigation and testing to remedial plan design to project oversight and clearance testing. Benchmark Environmental Engineering has worked with property owners, property managers, lenders, real estate brokers and government agencies on projects of all sizes, and we can meet the needs of any client. We understand the importance of providing quick turnaround times and affordable costs, and we work closely with property owners and government regulators using time-tested practices to expedite projects and minimize costs.
If you suspect your San Jose or San Diego commercial property may contain hazardous contaminants, let the experts at Benchmark Environmental Engineering assist you with soil and ground water testing and assessment.