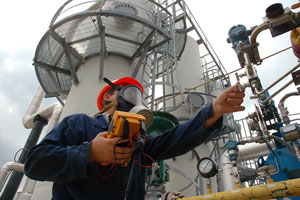 Benchmark Environmental Engineering's staff of Industrial Hygienists provide environmental inspection, consulting and training services in San Jose and throughout California. For over 20 years, homeowners, property managers, government agencies, private businesses and insurance companies have trusted us with their environmental testing and occupational health and safety management needs. From identifying hazardous materials to designing workplace safety plans, we can assist you with all aspects of environmental project management. Our mission is to help you protect your family, your employees, and the public.
California's Leading Industrial Hygienists
Our environmental consultants are the best in the industry, and we are committed to helping the communities that we serve. Benchmark Environmental Engineering employs Department of Homeland Security-Certified Lead Inspectors, Assessors, and Project Designers, as well as Certified Asbestos Consultants (CAC), Mold and Fungi Industrial Hygienists and Water Intrusion Specialists. When you select Benchmark Environmental Engineering, you are choosing knowledgeable consultants that will safeguard your property and the people that mean the most to you.
How Industrial Hygiene Can Protect Your Employees
Benchmark Environmental Engineering provides businesses, property management firms, and government agencies with occupational health assessments and workplace health and safety plans. We will help you to ensure the well-being of your employees and maintain your OSHA compliance.
Our industrial hygienists will perform a comprehensive risk study at your facility – observing your staff's routines, analyzing your organization's policies, inspecting your property and testing for chemical hazards. Based on our test results and findings, we will write an evaluation with recommendations to support workplace safety in your business, commercial property or municipal building.
Custom Health and Safety Plans
To help you meet local, state and federal requirements, Benchmark Environmental Engineering will construct a Health and Safety Plan tailored to your business. Our San Jose-based team of industrial hygienists has worked with OSHA, the Department of Homeland Security, and local and state regulators both in designing policies and in helping commercial clients to maintain their compliance. Our consultants will partner with you and your management team to author an occupational safety program that best meets the needs of your particular organization and achieves the standards set forth by your industry and environmental legislation.
Testing for Health Hazards
Our industrial hygienists provide site inspections and test for hazards such as asbestos, lead, mold, and other toxic contaminants. Whether you are purchasing a commercial property, undertaking a construction project, or your home or business has suffered an environmental loss, let Benchmark Environmental Engineering give you peace of mind. Our San Jose-based consultants will complete an on-site inspection as well as perform a battery of tests. We work with an accredited third-party laboratory to analyze our water, soil, and air quality samples. If the results are negative, we will provide you with documentation attesting to the safety of your residential or industrial property. If hazardous materials or harmful bacteria are present, we will design a remediation plan to remove the contamination.
Environmental Project Management in Santa Clara County
If your San Jose area home or business tests positive for mold, bacteria, lead, asbestos or any other health hazard, Benchmark Environmental Engineering can help guarantee that it is removed properly. Our team of industrial hygienists will work with your chosen remediation contractor on your behalf to provide oversight while your project is in process. We ensure that the proper protocols are followed, and we provide post-remediation testing and site clearances.
Who We Work With
Benchmark Environmental Engineering assists residential, industrial, and municipal clients with a wide spectrum of industrial hygiene issues in San Jose and throughout California. Some of our specialties are:
Residential Industrial Hygiene
Commercial Industrial Hygiene
Public Sector Industrial Hygiene
Environmental Project Management
Our residential customers include homeowners and managers of apartment complexes, townhomes, and other multi-family housing facilities. Our commercial clients include retail stores, hotels, resorts, business campuses, and manufacturing facilities. We work with some of the largest companies in the Silicon Valley, providing environmental testing and Health and Safety Plans for their factories, production plants, laboratories and warehouse space. Benchmark Environmental Engineering also assists facilities managers in the public sector – providing industrial hygiene services at hospitals, medical facilities, schools, courthouses, prisons and government offices.
Schedule Your Environmental Assessment
Do you need assistance putting together a Health and Safety Plan for OSHA Compliance, or are you concerned about the presence of asbestos on your commercial property? Call the industrial hygienists at Benchmark Environmental Engineering. Whatever the scope of your requirements, we will provide you with the level of environmental consulting that you need at an affordable cost.
Let us help you to limit your liability and make your home or business a safe place to be. Contact Benchmark Environmental Engineering today to schedule an appointment with one of our industrial hygienists.