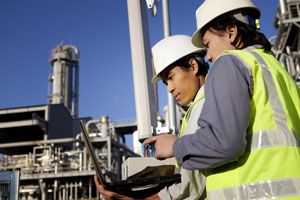 Benchmark Environmental Engineering offers environmental testing, consulting, training and legal services for commercial and industrial clients throughout the State of California. Based in San Jose, our team of industrial hygienists work with commercial property owners and businesses in the industrial, retail, and healthcare fields.
Commercial & Industrial Environmental Testing
Benchmark Environmental Engineering specializes in providing environmental consulting and testing on commercial properties. We offer our industrial, retail, and healthcare clients a variety of assessment and consulting services, including:
Soil Sampling
Hazardous Materials & Chemical Testing
Water Intrusion Management
Pre-Construction Assessments
Post-Construction Defect Inspections
OSHA Compliance Consulting
Health & Safety Plan Formulation
Training & Education for Commercial Property Owners
The Benchmark Environmental Engineering teams of certified environmental instructors are experienced in the areas of respiratory fit testing and mold, lead and asbestos continuing education. Our staff of California State Certified Teachers works with your company's maintenance staff to provide the newest environmental information and hazardous materials handling techniques available. Our environmental courses follow state and federal requirements and are eligible for CE Credits. We specialize in teaching healthcare, industrial, and retail facilities professionals about these topics:
Lead Paint – Renovation Repair and Painting, OSHA Compliance, Awareness
Asbestos Class III – Competent Level and Asbestos Class IV – Awareness
Mold and Fungus Awareness and Maintenance
Expert Witness Testimony for Commercial Environmental Cases
Benchmark Environmental Engineering assists San Jose-area and San Diego-area commercial property owners and industrial businesses with legal support. Our team of veteran environmental engineers can assist you with providing expert witness testimony in arbitration, depositions and court cases. We present accurate findings and sound testimony, giving you the help you need in commercial environmental cases.
Why Choose Us?
Benchmark Environmental Engineering's industrial hygienists have decades of hands-on experience providing commercial environmental consulting services. Our clients include large retail stores, national box stores, strip malls, shopping malls, factories, health care facilities, laboratories, clean rooms, and industrial complexes. We provide our commercial property owners and business clients with trusted testing and expert recommendations. Whether we are designing a Health and Safety Plan for your company or we are performing an asbestos survey, you can count on Benchmark Environmental Engineering to provide your California commercial business with the best environmental consulting available.
Cost-Effective Solutions
Benchmark Environmental Engineering provides our commercial and industrial clients with cost-effective solutions, no matter the size of the project. We believe in designing common sense environmental plans that meet state and federal regulations while maximizing efficiency. We know that time is money, and minimizing loss of use is critical to your business. Because of this, we offer 24-hour response, same-day testing, and timely reporting in Santa Clara County, San Diego County and throughout the State of California.
California Code Inspectors & Regulators
Benchmark Environmental Engineering maintains excellent working relationships with California code inspectors and regulators. We work hand-in-hand with them to ensure that your commercial property or industrial business is compliant and that downtime is minimized. Benchmark Environmental Engineering also develops protocols for our retail and commercial customers that oftentimes will allow your business to remain safely open and in operation during the testing and remediation processes.
Let Us Help You With Your Commercial Property
Benchmark Environmental Engineering has worked on projects of all sizes, ranging from small mold investigations to large environmental testing for commercial properties. Our commercial clients include leading manufacturers, large retail chains, and private and public health care facilities. With over two decades of industry experience, Benchmark Environmental Engineering is known in the Silicon Valley and throughout California for our expertise in consulting on complex commercial environmental cases.
Let the professionals at Benchmark Environmental Consulting help you with your commercial environmental consulting, education and expert witness needs.
---
Health Care
Benchmark Environmental understands the special challenges that healthcare facilities face after a disaster or catastrophic event. Our professionals offer a depth of experience working with hospitals, medical office buildings, pharmacies, laboratories, nursing homes, blood banks and diagnostic centers to mitigate damages, minimize business interruption and reduce staff losses. We are also prepared to assist in facility construction or renovations following catastrophic events such as an earthquake or hurricane.
---
Industrial
Industrial downtime is simply unacceptable, even after a disaster. That's why it's so important to have a specialty restoration firm such as Benchmark Environmental on your side to minimize the impact of a disaster or catastrophe and maximize a complete and successful recovery. Should a disaster strike, we are prepared to assist you in the recovery of specialty and electronic equipment, vital records, customer data and documents, and controlled environments such as clean rooms.
---
Retail
When disaster strikes a retail operation, it means one thing: loss of business and revenues. That's why it's important to enlist the services of Benchmark Environmental to handle your disaster recovery needs. We have years of hands-on experience providing mitigation and restoration services to store fronts, strip malls, large box stores and major shopping malls. To minimize business interruption and customer loss, we have developed a special system for our retail clients that allow the operation to stay open for business while we perform our recovery services.
---